Liquid Blue is the ultimate party band, having performed in more than 100 countries and 500 cities. They hold the official world record as "The World's Most Traveled Band," and have received many prestigious awards including "America's Best Dance Band" at the National Music Awards, "Entertainment Act of the Year" at the 2012 Biz Bash Readers Choice Awards, and "Best Cover Band" at the San Diego Music Awards. Their original song "Earth Passport" hit Billboard's Hot 100 Singles Chart and climbed to the Top 10 on Billboard's Dance Chart. When you want to hire a live band for an important corporate event, high profile wedding, or special celebration, with international acclaim that can't be matched by any other band, Liquid Blue is your only choice.
"In my 23 years as Designer/Technical Director for La Jolla's annual Jewel Ball, I've never been blown away by a band's performance. Until now. Liquid Blue was amazingly creative and versatile. They showed commanding intensity and artistry combined with a smooth synchronicity that looked absolutely effortless on stage, engaging the guests with an incredible performance that rocked the dance floor till the last note." – Jim Roth, MSI Production Services, San Diego, California
"Liquid Blue was totally amazing! They made the wedding complete, and all our guests were raving how they were the best band they've seen at a wedding. They were so great to work with during planning and the wide range in their playing abilities / songs made all our requests fulfilled. Liquid Blue was one of the highlights, if not number one at our wedding!" – Adam Z, Wedding Client
The group's standard configuration is seven or eight performers and includes the highly talented BlueGirls, a frontline of three accomplished female lead vocalists and dancers. The world famous BlueGirls have performed with Liquid Blue at sold-out stadiums, arenas, and casinos throughout the world and on all six continents. Depending on your event, the ensemble can also include a saxophone player, three piece horn section, or DJ, your choice. They are one of the most accomplished party bands in the world, a multi award-winning, internationally-acclaimed cover band with a well deserved reputation for creating unforgettable corporate events, weddings, and parties.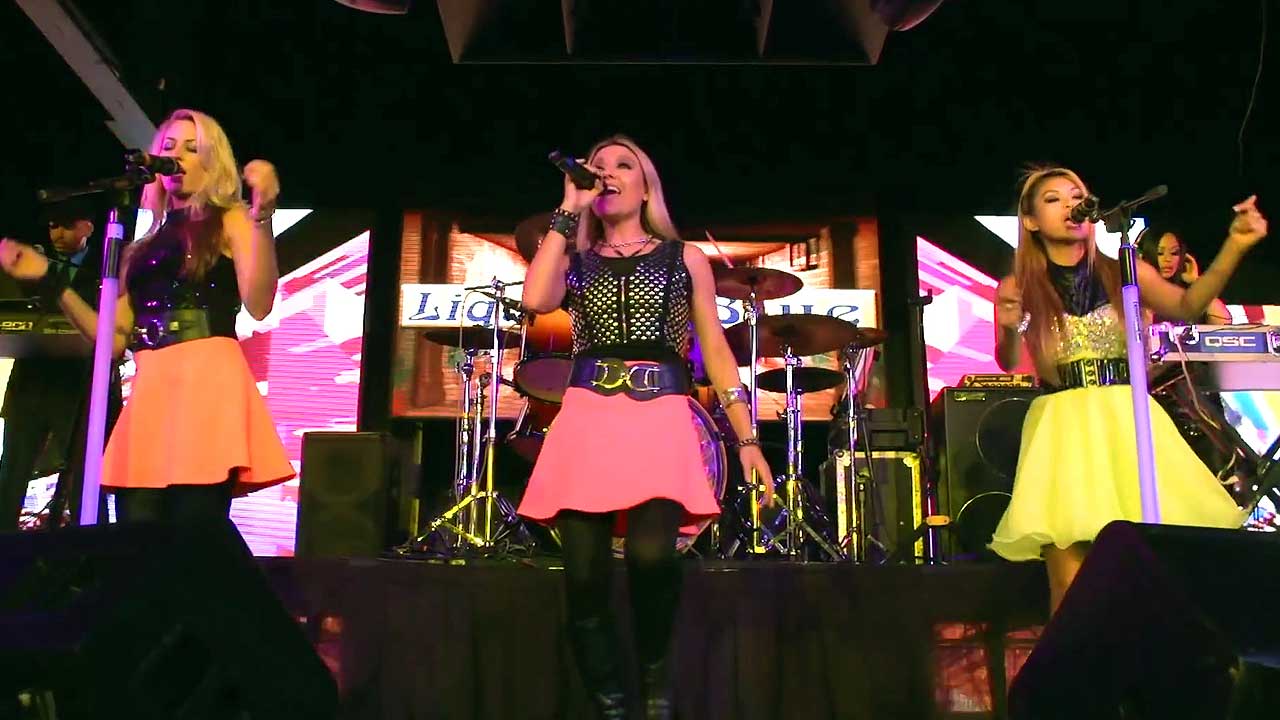 Award-Winning & Internationally Acclaimed Live Party Band
The band has been featured on seven magazine covers, was the first American group to be signed by a major Chinese record label, and represented the United States at the CCTV kick-off concert for the 2008 Summer Olympics in Beijing, China. They have received more awards and recognition than any other cover band in the music industry and are one of the most accomplished and highly acclaimed live party bands in history. If you're looking for a cutting-edge band that will keep your audience's adrenaline pumped up from the first song to the last, and leave them begging for more, Liquid Blue has proven to be one of the world's top dance bands.
Featuring a line-up of A-list vocalists, musicians, and dancers, Liquid Blue brings unmatched star power to every event, and at an unbeatable price. They are a favorite of the biggest-named celebrities including TV and movie stars, professional athletes, high level politicians, heads of state, Fortune 500 companies, private country clubs, and the rich and famous."
"Liquid Blue was amazing as always! Awesome to work with and extremely accommodating with all of our requests. We had a last minute confusion of speaker placement and they went above and beyond to make sure we were taken care of. Thank you, thank you! Highly recommend them!!" – Chelsea V.
High Energy Cover Band for High-End Events
With more than 600 songs in their repertoire, clients can customize a show for every taste. Plus, the band has over 70 medley arrangements, which are mini-tributes to a specific groups and eras. Choose your favorite medleys honoring the biggest music stars and music eras in history including ABBA, Beyoncé, Led Zeppelin, Britney Spears, Michael Jackson, Rock medleys, Hip-Hop medleys, and many others.
Many clients hire Liquid Blue because they're young, attractive, hip, highly energetic, and play more current Top 40 dance hits than most other live music bands. However, this is just the tip of the iceberg. The group also has several popular tribute shows that are geared toward specific types of music. Die-hard rock fans go crazy for the "Rock and Roll Fantasy" show, while other clients may prefer to go with one of the other popular shows like "The Divas," "HippieFest," or "British Invasion."
Liquid Blue is more than your typical wedding cover band or dance band. Their eye-popping show is a feast for both the eyes and ears. With their extensive repertoire of songs, high energy stage show, cutting edge "wallpaper" graphics, and attire ranging from mild to wild and formal to funky, audiences never get bored no matter how many times they've seen them. The visual impact of the show is simply incredible. When you want to hire a party band unlike any other, Liquid Blue is the perfect choice.